Riss - (Disruption) / 2013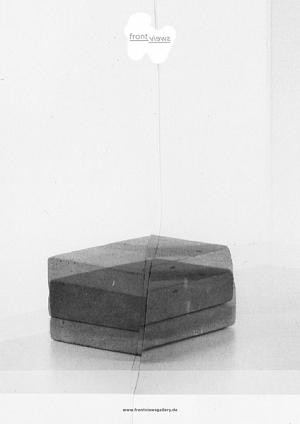 Location:
Hengesbach Gallery

Duration:
08.03. – 20.04.2013

Exhibition:
group show

Artists:
Astali / Peirce Nikola Ukic Amir Fattal

Notes:
in cooperation with Hengesbach Gallery Berlin
»Riss« - (Disruption)
The group show »Riss« – (Disruption) is a cooperation between Hengesbach Gallery and Frontviews, an independent curatorial platform in Berlin. Frontviews develops concepts for exhibitions devoted to current issues in cultural philosophy. From March 09 to April 20, Stephan Köhler will present three young positions there: Nikola Ukic, an artist represented by Hengesbach Gallery, Amir Fattal, an Israeli artist, and the duo Tolia Astali and Dylan Peirce, who have Georgian and French roots.
Using different recourses, the works on display deal with the past. In these works, time is no longer experienced on a purely chronological basis but rather materially in space. In this sense, the exhibition title »Riss« – (Disruption) not only refers to a break of historical continuity but also to the cracks (ger.: Risse) in the material and the stopping of processes. We would like to cordially invite you and your friends to the opening on March 08, 2013 at 6-9 pm.
Nikola Ukic (*1974 in Rijeka, Croatia) develops his works using dynamic materials, such as polyurethane. To find a form, the artist doesn't only explore various aggregate physical states but rather actively reacts to the uncontrollable expansion of the material. On the one hand, the artist uses such elements of chance in the process to suggest and invert memories of formation strategies. On the other hand, he deliberately works with the capriciousness of the materials refusing static forms, that he, for instance, mounts on the surfaces of his objects using photography. As such, he uses photographs of classical modernism sculptures, as those from Hans Arp or Henry Moore, to expose them to a process of expansion of the material. This, in turn, can act like a 'chemical Jackson Pollock' on the templates. In »Riss« – (Disruption) Nikola Ukic will be showing new sculptures as well as wall pieces. Decisive for his work method is the acceptance of processes that undermine the faith in the strength and validity of abstract forms as a modernist utopia.
In his work, Amir Fattal (*1978 in Tel Aviv, Israel) researches historical events that have nightmarish meanings that are diametrically opposed: in the early forties the architect Erich Mendelsohn, who emigrated in 1933, was involved in developing prototypes of German settlements with the US military to test the destructive effects of American bombs on German building methods. Fattal transfers preserved photographs onto metal plates by a form of pressurization of dust. In all likelihood, the uninformed viewer will associate the contents of the pictures with German concentration camps. The accompanying monochrome plates are placed in relationship to the here and now by means of a reference to the wall colors that Mendelsohn patented in the 1920s. In this context, patterns of cultural exertions of power that were written off demand unexpected temporality and reaffirm their continued claim to history through their new, current presence. In reference to dust, colors and mirroring effects, Fattal subtly shifts the cultural patterns and perspectives, and breaks with what is memorable. The past moves into a different proximity and physicality as document displays and monument. In his work, the artist reveals the ambiguity of patterns of cultural practice.
Tolia Astali (*1974 in Tiflis, Georgia) and Dylan Peirce (*1977 in Paris, France) collaborate on assemblages and installation. Composed of a serial aesthetic of industrial materials, chemical processes of transferring photos, and a mostly anonymous pool of pictures, these works testify to a synthetic reality that can both foreign and familiar and experienced spatially. Characteristic of their work is, on the one hand, to work with objects that were once loaded with meaning as if they have been freed from their original definition and given a new connotation. On the other hand, cultural and temporal variables such as language, culture and heritage are revealed in this new arrangement to be mere props.
Depending upon the position, dialectical thinking and memory patterns, historical breaks or material immanent processes are compressed into multimedia works in »Riss« – (Disruption). The search and find for the present and the associated demarcation of the past and its complex new formation are the core of this exhibition.
"If we consider the exhibited objects as detached yet connected to our existence, then the objects shift in our existence like variations in a musical fugue, are located in the moving fugues of our tectonics of the secure, or are merely cracks in our reality." (Stephan Köhler)
Hengesbach Gallery represents original positions in contemporary art with a European emphasis. The program reflects the material and contentual possibility of art in various ways. It is our interest to establish a dialogue with contemporary cultural philosophy. Hengesbach Gallery was founded in 1991 and has been based in Berlin since 2009.